So it is that time of year, time to recap the great music we got hear this year. It is of course difficult to pick just 10 albums, and grant it I could do more, its my list, but then I would just list every album that I liked and well, where is the fun in that?
1) Under the Blacklight
- Rilo Kiley
It was hard to pick my top album and in reality there is a tie between this and album number two. But really, can you top this? After loving "More Adventurous" and listening to their music on repeat for many days on end, I was not disappointed with this album. While, in studio the sound is a bit different that their previous work, hearing the songs live, makes it seem like this was the music they always made.
2) Wild Hop
e - Mandy Moore
This album lived up to everything that I thought it would. It is so emotion-packed, every time I listen to it, I feel everything she is singing. Mandy has grown into a mature sound mix of pop and folk. Plus her voice is also phenomenal
3) Ri
pe - Ben Lee
This was another anticipated album of the year for me as well. There are catchy choruses, great beats and all around well put together songs. Not only does he do duets with Ms. Mandy and also Rachel Yamagata, Ben worked with the boys from Rooney as well. Anyone who writes a song "What Would Jay-Z Do?" is okay in my book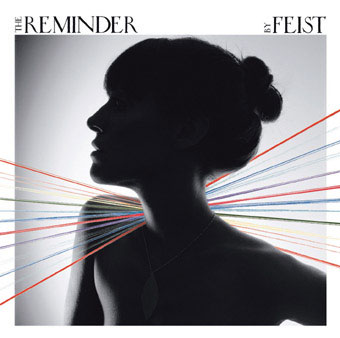 4) The Reminder - Feist
I didn't start getting into Feist until later in the year. I was introduced to her music through a friend back in the spring and thought she sounded amazing. Fast forward to the summer road trip, where it appears to be every where from NPR to the whiskey bar in S.F. After finally getting my own copy of the album, I loved it even more.
5) Alright, Still - Lily Allen
This is a fun, kick ass, make fun of others to make myself feel better, album and I love it. She has great beats and catchy lyrics. Though her off stage and often on stage dramatics can be checked at the door, you still can't help but still lvoe the music. Plus after hearing her cover of The Kooks' "Naive" (sorry not on this album though) you can tell that she does have talent
6) Infinity on High - Fall Out Boy
Two years ago "From Under a Cork Tree" was my number #1 album. There was something about the mile long song titles, emo-tastic lyrics, and all out heart that went into that album. While, "Infinity on High" was not terrible, by any means, it just didn't have the same effect for me. Though there are choice songs on the album that I especially like "Take Over, The Breaks Over," there is still something, just doesn't make it my number 1.
7) "Once" Soundtrack
I was fortunate enough to see a press screening of this film months before it came into theatres. I was even more fortunate to have the privilege of meeting and interview, Glen Hansard, Marketa Irglova, and John Carney (the director). The film, which I thought was just beautiful, translates well onto the soundtrack. My favorite is "Falling Slowly."
8) Calling all the World - Rooney
When Rooney's first album came out my senior year of high school, I was beyond excited. I had already seen them in concert twice, had a 3 song EP and was waiting not so patiently for the full-length LP to drop. When it finally did, it lived up to my expectations. Now over 4 years later, I had that same feeling of anticipation when their sophomore effort finally came out. While the songs are different than the music they were making before, there is still the same underlying sound. You can still dance around to it in your kitchen and it still reminds me of home.
9) It Won't Be Soon Before Long - Maroon 5
This was another group that I got into, my senior year of H.S.
Songs About Jane
had been played on repeat for years. Seeing them at The Showbox was one of my top concerts. When their sophomore album finally came as well, I was pleasantly surprised. Not sure if it would live up to everything I wanted it to, it did. There are the great songs about heart break, love and even cheating/murdering. It doesn't get better than that.
10) In the Shade of Poison Trees - Dashboard Confessional
I was very surprised this past fall to find out that Dashboard was releasing another album, since it had just been a year since
Dusk and Summer
had been released and was finally getting a lot more air time. Though, lower on my list than other of his albums might have been, could be because this album still feels a little rushed, not as thought through like his other albums. But it still makes my list because, well, it is Dashboard and what can I say, I love him.
*Disclaimers:
Here are some of the albums that I liked this year, but not quite Top Ten Material:
Bloc Party - A Weekend in the City
Norah Jones - Not Too Late
Mika - Living in Cartoon Motion
The Shins - Wincing the Night Away
Sara Barielles - Little Voice
Here are albums that would have severely shaken up my Top Ten had I actually had the financial means to buy them:
Even if It Kills Me - Motion City Soundtrack
Cease to Begin - Band of Horses
In our Bedroom After the War - Stars
The Con - Tegan and Sara
And if I actually like Radiohead, I am sure that
In Rainbows
would have made my list.
And if I didn't severely hate Amy Wino's attitude,
Back to Black
, would have made my list, because man can she sing ... when she's sober